105866
Fan
China
City: Dandong
Age: 29
Birth Date: 12/8/1983
Weight: 119lb, 54kg
Height: 5'4", 163cm
Eye Color: Black
Hair Color: Black
Marital Status: Single
Children: 0
Religion: None/Agnostic
Smoker: N
Drinker: N
Education: College
Company:
Job Title:
Sports: Jogging
Hobbies: Traveling, films, music, drawing


Self Description: I am a easy-going girl who loves making friends.

Comments: I want to meet a romantic gentleman. Up to 50.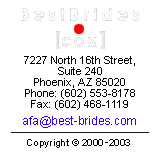 Women from other countries:
Ukraine (11749) Philippines (10068) China (3798) Colombia (2980) Russia (2421) Peru (1351) Costa Rica (827) Thailand (710) Dominican Republic (478) Belarus (239) Brazil (137) Latvia (13) USA (7) Kyrgyzstan (6) Indonesia (6) Panama (6) England (6) Kazakhstan (5) Argentina (4) Belgium (4) Canada (4) Saudi Arabia (4) Lithuania (4) Hong Kong (3) Romania (3) Uzbekistan (3) Israel (3) Ecuador (3) Finland (2) Moldova (2) Turkmenistan (2) United Arab Emirates (2) Sweden (2) Taiwan (2) Bulgaria (2) Nicaragua (2) Honduras (2) Azerbaijan (1) Ghana (1) Germany (1) France (1) Estonia (1) Cambodia (1) Czech Republic (1) Georgia (1) Singapore (1) Mexico (1) Japan (1) Hungary (1) Cyprus (1) Uganda (1) Australia (1) Netherlands (1) South Korea (1) Greece (1) Bolivia (1) test (1) Norway (1) Poland (1) Malaysia (1) Kenya (1) Italy (1) Spain (1)

Singles Exchange